Merry Christmas!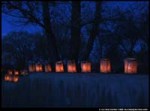 Nan and Christi are in Santa Fe this Christmas, and as is the tradition here, we will walk tonight, Christmas Eve, and admire the farolitos (elsewhere these are called luminarias, lumieres and various other names) that line the streets of Santa Fe's east side.
There is snow on the ground and it's still snowing off and on. Cold. Tonight the forecast calls for 10 degrees Fahrenheit (-12 degrees Celsius). Brr.
Friends are coming for Christmas dinner, and we'll cook up a storm, the cookies having already been made.
We talked this morning about the free shipping Fatale has been offering, and lots of people have taken advantage of the special offer. So we've decided to extend the free shipping through New Year's, and half-price shipping outside the U.S. It's a good deal! So if you find yourself needing a special present–for you or someone special in your life–you'll get a good deal from us at Fatale.  
On that happy note, we say to you:
Merry Christmas! Happy New Year!
May 2010 bring you health, wealth, wisdom and all the sex your heart desires.
Yours in peace,
Nan and Christi
Tags: Christmas, free shipping, holidays, Nan Kinney, special offers