The Real L Word XXX NYC Edition


Directed by Madison Young, shot in New York City with three real-life lesbian couples



DVD: $19.95





In stock. Ships within 24 hours.


Super-sexy mockumentary from Madison Young…
Meet the real NYC lesbians who will have you creaming in your pants. They are funny, they are gorgeous, they know how to fuck and hold back nothing for Madison Young's camera.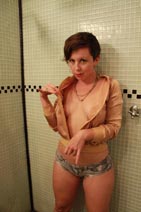 First up, Rosen and Nikki, a cute downtown couple who live in an apartment outfitted with a stellar kitchen for professional baker Rosen. Nikki, a tattoo artist, and Rosen have been together for almost two years, and they are ready to make love in the outsized kitchen… On the countertops they slide, going down on each other until gasping, trembling orgasms shake them. Lots of kissing and romance between these two!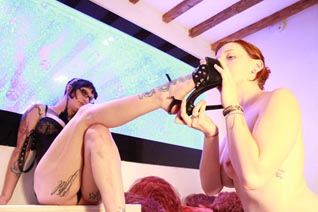 Next, we meet two kinky lesbians who give us a rare peek into the life of a real dom-sub lesbian couple. Mistress Bella, dressed in a leather corset to accentuate her breasts, and her slave, Bettie Bondage, give the camera a beautiful dom/sub scene in that dungeon.
As Bettie submits, the atmosphere changes, and the sex scene plays out in superb detail. Whipping, spanking, toe-licking, foot-sucking leads to nipple clamps, a scene in the dungeon's sling, delaying the gratification even more. Mistress Bella dons "new toys," talons to elicit razor-like pain on Bettie. Back on the floor, Bettie gets to give Mistress a lesbian cock-sucking and bring herself to begging, pleading orgasms. A little pussy-slapping thank-you ends this exquisite scene.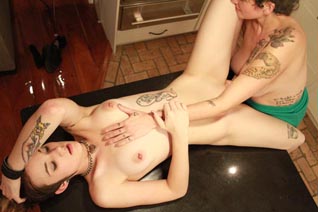 The third NYC lesbian couple met at a sex camp! "It's an East Coast thing," they explain. "Lesbians run around without clothes on. Like a Girl Scout camp but ten times better."
So begins our encounter with this humorous, slapstick couple. Tina Horn is a burlesque dancer in Baltimore, so she and Andre, a writer, have a long-distance relationship.
Andre tops Tina in the bathroom here, a great bath unusual for NYC that sports a huge bathtub and glass-doored tiled shower. Andre jokes, as Tina gets ready for whatever Andre is planning, "Afterwards we can hose you off."
Their lovemaking is physical in a refreshing manner that goes way way beyond mere pussy-licking and on into the realm of punching, kicking, grabbing, humping and boots-on butt-licking and pussy-fucking with fingers and strap-on dildo.
These two have real chemistry and the scene is a show-stopper.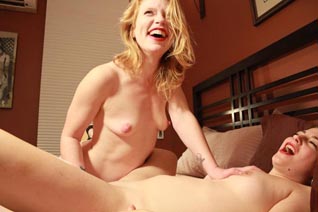 Lest all this lesbian sex go for naught, Madison Young and her assistant get down in a wild, loud all-out fuckfest before they have to leave for the airport.
About Madison Young
Madison Young is one of our favorite feminist porn directors. A real presence and voice in feminist porn, she is the star and director of Queer Manor, 50 Shades of Dylan Ryan and The Real L Word XXX NYC Edition. A prolific perv, Madison Young has an narrative imagination and stylized sense of sexy that breathes life and wit into real lesbian porn and queer porn.
DVD features sexy bonus extras.