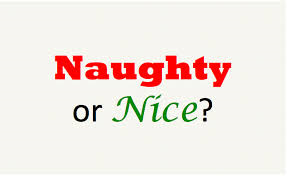 Last month, we asked if anal sex is your favorite kind of sex. Moods prevail!
This month, we ask:
Now that the holidays are here, are you naughty or nice?
Vote now! The poll is on Fatale's home page and 100% anonymous.
Till next time, we wish you fabulous sex.
Happy Holidays!
Nan and Christi
FataleMedia.com
P.S. As our gift to you, get 20% off your entire order and free fast shipping! (Half-price shipping outside the U.S., a good deal.) Shop now!
P.P.S. Great gifts! See what LesbianLife.About.com calls "the best lesbian porn."
Tags: Fatale poll