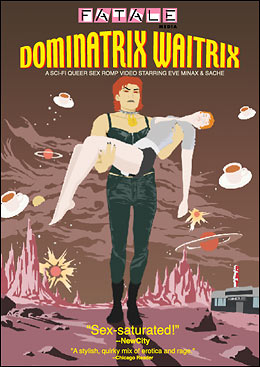 Illustration/Design: Sean Dove


Dominatrix Waitrix

Writer, Director, Producer: Edith Edit
Executive Producer: Nan Kinney
Color. 44 minutes. Rated X.

DVD Features:

44-minute video, Dominatrix Waitrix
Live action (no animation)
Deleted Scenes
Cast and Crew Bios
Poster Art


DVD: $34.95

Screenings:

Outfest 2005: The 23rd Los Angeles Gay and Lesbian Film Festival, July 7-18, 2005
Sex Worker Film & Arts Fest, Roxie Cinema, San Francisco, May 7, 2005
London Gay and Lesbian Film Festival 2005
Brussels LGBT Film Festival
Chicago Leather Archives and Museum
Cinekink Film Festival at Anthology Film Archives, NYC
Cineffable Film Festival, Paris
Nashville LGBT Film Festival
Shibaricon Chicago.

About Edith Edit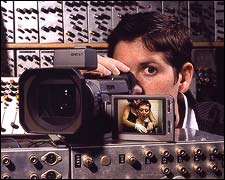 Photo: Saverio Truglia



Dominatrix Waitrix producer, writer and director Edith Edit is a media artist based in Los Angeles. Her short video series Auto Play, Undercov, and Single Repressed Female (2001) have screened in festivals, at universities and at alternative venues in the U.S. and abroad. She has been a guest at several conferences, film festivals and universities to discuss the intersections between pornography and feminism, art and academia.

Dominatrix Waitrix
Lesbian porn by Edith Edit

DVD:
$34.95




Out of Stock


"Sex-saturated!" — NewCity

"The tale of a sexually voracious, leather-clad human clone who takes over the bodies of overworked waiters and preys on their customers....A stylish, quirky mix of erotica and rage."

— Chicago Reader

"In Dominatrix Waitrix, the interdependence of waiter/customer is explored to the dynamic of sadomasochism, the curiosity of role-playing, and the body-snatcher camp of '50s B-movies."

— Pistil

"An amazing, unique, interesting film. I really enjoyed watching it."

— Annie Sprinkle

"The cast is as far from SoCal pulchritude as you can get, but the gender-bending, BDSM and fetish play they perform, while not of the hardest core around, is sexy and sincere--and any flick where a woman gets pronged with a pepper grinder is a winner in our book (the opening title sequence is funny as hell, too). There aren't too many bells and whistles with this disk, but it's well worth a look if kinky comedy is your thing."

— Penthouse Forum

:: CLICK ON ANY FEATURED IMAGE BELOW FOR LARGER VIEW ::


The perverse eye of cinematographer Edith Edit has caught the attention of porn lovers, art porn aficionados and film festival goers around the world with her debut video, Dominatrix Waitrix.

This sexy lesbian movie knocks 'em dead with high camp choreographed musical numbers, a savior Wizard who runs the whole show from behind a curtain and overworked, underpaid waitresses who just need a sex break.

The vampish Dominatrix Waitrix, played by Sache, takes over the soul of a sexy waitress, Eve Minax. Before you know it, the sex is hot hot hot!




Photo: Christa Holka

Sacha and Eve





Fanon and Iku


BDSM, bondage, whipping with a beautiful cat o' nine tails and other floggers, nipple clamps to titillate, group sex, dildo sex, finger-fucking...you name it, the queer folk are doing it right there on screen.

Role-playing and role reversal abounds. Don't miss the scene where the sexy bottom turned top wields a long sharp knife to cut off the fishnet leotard her top's wearing. Ooh-la-la.



Knife-play

"Dominatrix Waitrix is great indie porn: campy, queer, kinky and hot!"
— Nan Kinney, Executive Producer, Fatale Media, Inc.
"I am delighted to be a part of a new generation of women pornographers. Gazing and being gazed at. And feeding the starving masses with intelligent, pleasurable smut."
— Edith Edit, Writer, Director, Producer

Dominatrix Waitrix




Writer, Director, Producer: Edith Edit
Executive Producer: Nan Kinney
Color. 44 minutes. Rated X.


| | |
| --- | --- |
| Available on DVD: $34.95 | Out of Stock. |