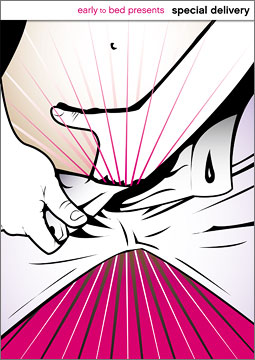 Cover: Pirate Signal Designs


Special Delivery

Lesbian DVD. 81 minutes plus 20 minutes bonus extras. Color. $29.95



DVD: $29.95


"Special Delivery is an absolute treasure....It's passionate, honest lovemaking....This is how lesbians fuck."
— AVN, 4-star review
"Special Delivery is sassy, fun, and HOT! When do you ever find that combination in porn? This is truly dyke porn for dykes... no more need to resort to the long-nailed, fake-breasted squealing blondes in mainstream 'lesbian' porn. This is the real deal!"
— Eden, Chicago
Also by Carolyn Caizzi:
Coming Home

DVD: $29.95
Turn Me Up Over and On
w/ Afterschool Special

Double DVD: $29.95
---

Special Delivery
by Carolyn Caizzi

DVD:
$29.95





In Stock. Ships within 24 hours.


You'll never look at your mail the same way again!

From the director of the lesbian DVDs Coming Home and Turn Me Up Over and On comes Special Delivery.

Two real-life lesbian couples bring sex-shop worker Deb Shooter's fantasies to life...and it all begins with where Deb imagines her "special delivery" packages end up.

In Deb's first fantasy, Coming Home stars Anja and Eva, two sweet femmes, open their "special delivery" package and don't even make it out of the living room before their clothes come off. If you like a girl with a shaved pussy...and a really big pussy, you'll love this sex scene!





Eva and Anja

As Anja and Eva have wild sex, Deb can't stop herself and masturbates herself to a wild orgasm...right in the backroom of the sex shop!




Benito and Flora

Deb's second fantasy introduces Flora and Benito, a nice big femme and her butch lover who kiss and cuddle in sweet foreplay. A steamy sex scene follows, with Benito fucking Flora with slow, deliberate, luscious intensity...

But Deb's fantasies don't end there! Two more hot lesbian sex scenes ensue, first with Anja and Eva and then with Benito and Flora. In the end, Deb's imagination and her day at work pay off.




Deb Shooter

Two steamy sex scenes with Anja and Eva, two hot scenes with Benito and Flora, and one explosive solo scene with Deb add up to 81 minutes of erogenous lesbian action!

Bonus behind-the-scenes movie and interviews with the cast and director Carolyn Caizzi.

Special Delivery



Lesbian DVD. 81 minutes plus 20 minutes bonus extras. Color. $29.95



Available on DVD: $29.95
In Stock. Ships within 24 hours.