What do you think: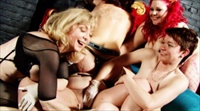 Do you like fisting?
Vote now. The poll is on Fatale's home page and 100% anonymous.
Till next time, we wish you fabulous sex.
Nan and Christi
P.S. Want to see some sexy fistin'? Check out Live Sex Show by Courtney Trouble. Check out all the sexy titles at Fatale Media.
P.P.S. Join us! Like Fatale on Facebook. Follow us on Twitter @FataleMedia. Follow us on Pinterest.
Tags: Fatale poll