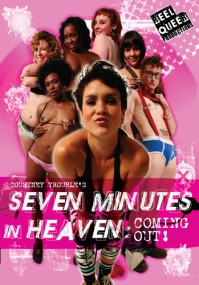 Seven Minutes in Heaven:
Coming Out


120 minutes $29.95
DVD includes bonus extras


DVD: $29.95

In stock. Ships within 24 hours.

If you like Seven Minutes in Heaven, you'll like:

My Best Friend's Perfect Pussy

Lesbian Curves 3: Soft Girls and Strap-ons

Lesbian Curves by Courtney Trouble

Full Load: Scenes from ssspread



Seven Minutes in Heaven: Coming Out



DVD and bonus extras: $29.95





In stock. Ships within 24 hours.


Queer Porn from Courtney Trouble
Seven Minutes in Heaven: Coming Out gives you 120 minutes of wall-to-wall gonzo hardcore sex. Grab your vibrator and take a peek at Courtney Trouble's queer pornfest.

There's plenty of rough, fun, voyeuristic sex in Seven Minutes in Heaven, with big doses of lesbian action, finger-fucking, strap-on sex, spanking, flogging and whipping and more.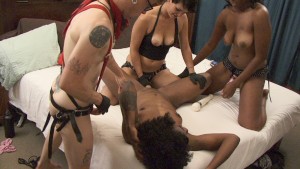 The seven amateurs—Jolene Parton, Sarah Lee Sinful, Tina Horn, Sophia, Jae, Carson and Puck Goodfellow—several of whom state that this is their "first porn ever" or "first queer experience," play party games to get the sex rolling. Spin the Bottle and later Truth or Dare forge some unexpected pairings.
Some of the actors are shy at first, but after a while, even the lusty Sophia begs to be fucked with a strap-on, or to fuck somebody with a strap-on. Sophia's gangbang is one sexy scene in Courtney Trouble's vision.
Unscripted and untamed, Seven Minutes in Heaven: keeps you off-guard, and you never quite know what's going to happen next.
Seven Minutes in Heaven Coming Out reviews have been good too—here's a sample:
"A fantastic fuck-fest featuring strap-ons and gang-bangs, spanking, role-play and power exchanges, fisting and fingering, lessons in cock sucking, kissing, fondling and playful teasing. Where one scene ends, the other begins and the sex and play seems to go on forever, with bodies changing places, a new strap-on here, a new twosome, threesome or foursome reveling in hot, sexy, authentic, queer, smoldering, diverse, inter-racial hardcore sex."

--Viviane's Sex Carnival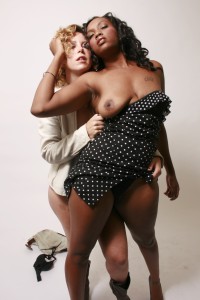 These amateurs are a diverse cast, with black girls and white, white bois and even a top who calls herself a faggot. We were happy to see some black women with big gorgeous asses in here, although none of them have a one-on-one sex scene together.
Courtney Trouble is a new erotic voice on the scene of queer porn. A perfect next step for fans of Roulette, Nostalgia and Afterschool Special, Seven Minutes in Heaven: Coming Out takes the idea of "reality porn" to the next level, with Ms. Courtney Trouble at the helm.