Dr Gary Schubach shows us what the g-spot and female ejaculation is and where it is located.

Learn what these female waters are, where they come from and how to start yours flowing!




Reawaken the exquisite sensitivity of the g-spot with a trained masseusse. Discover the g-spot's hidden sensations of intense pleasure, its incredible storehouse of emotions, and its treasure of connectedness to self and others.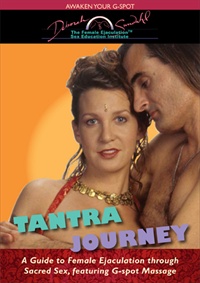 A sacred sexual union with devotional couple Raul and Dakini Corynna shows how ejaculation pours forth from a woman open to pleasure and alive in her body, emotions and spirit with a man also in tune and knowledgeable about these ancient feminine secrets.



Artist, publisher and videographer Debbie Sundahl has been creating "erotica with intelligence and spirit from a woman's point of view" for 15 years.

| | |
| --- | --- |
| DVD: $29.95 | In Stock. Ships within 24 hours. |