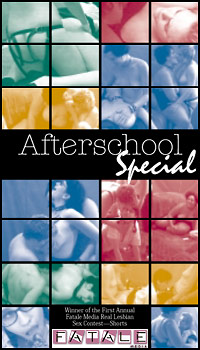 Afterschool Special



Director: Apriluscious



Producer, writer and creator: Ms. Hussy



Executive Producer: Nan Kinney



Original music by Spike
and Slamber's Pelvic Circus

B/W. 20 minutes. $19.95





Afterschool Special

Boston dykes do the nasty when they go after the naughtiest good girl.

One of the hottest shorts we've seen in a long time, Afterschool Special will get you wet before you know it.




"But I like boys," whines our novice schoolgirl.

"Don't worry. We've got plenty of dick for you."

And with that, watch out!

You won't be able to sit still as Dame X, Lydia Thrill, J. Bones and Spike initiate our girl to the thrills of raw lesbian SEX!
| | | | | |
| --- | --- | --- | --- | --- |
| | | And don't miss the biggest, hottest tits ever! Oh, mama! | | |

| | | |
| --- | --- | --- |
| | "This video was so excellent, I couldn't believe it was filmed by amateurs (but I've been promised that's the truth). There's a schoolgirl gangbang, more dildos than you can shake a stick at, and dykes masturbating in every corner. The star of the film is an adorable, innocent-looking schoolgirl with enormous size-E boobies..." | |
| | - FHM (U.K. edition) "Letter From Lesbos" | |

| | | |
| --- | --- | --- |
| | "These dewy-skinned dykes exude excitement, and are clearly having a blast...Amateur aficionados should check out this rare real lesbian sex production." | |
| | - On Our Backs, | |

| | | |
| --- | --- | --- |
| | "Finally, the dykes are diverse, the sex is superb, and my lesbian porn collection is complete." | |
| | - Dee R., Philadelphia | |

| | | |
| --- | --- | --- |
| | "After I saw Afterschool Special, a funny happened that doesn't happen as much as it should: I started thinking about my body and thinking, hey, this is pretty nice... It's stayed with me all through today and I dare say, I walk a little bit different today, like a more brazen girl perhaps, and maybe I feel more confident in my sexy thoughts, and allowing them to go wherever they want to go..." | |
| | - Rita Z., New York City | |