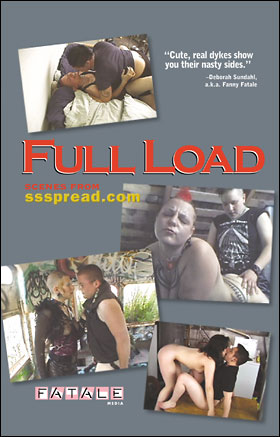 Full Load: Scenes
from ssspread.com

FTM and lesbian sex video

Director: Barbara DeGenevieve
Executive Producer: Nan Kinney

Photo credit: ssspread.com

Color. 90 mins. Rated X. $29.95



DVD: $29.95
In stock. Ships within 24 hours.





| | | |
| --- | --- | --- |
| | "This is a tasty video...butch and FTM fans, load up." | |
| | - Greta Christina, On Our Backs | |

| | | |
| --- | --- | --- |
| | "In just two films, Fatale has combined a whole mess of tastes that make for one hell of a banquet: studly butches, smoldering femmes, trash-talking dommes, totally fuckable FTMs, hot-to-trot alternacuties with lickable tattoos...plus the voluptuous spectacle that is all-girl oil wrestling." | |
| | - Hanne Blank, Scarlet Letters | |

| | | |
| --- | --- | --- |
| | "Full Load and Take Her Down! are the super hot new videos from pioneering lesbian porn company Fatale Media... Welcome to porn for a new millennium!" | |
| | - Rachel Kramer Bussel, Yes Portal | |

| | | |
| --- | --- | --- |
| | "Cute, real dykes show you their nasty sides." | |
| | - Deborah Sundahl, a.k.a. Fanny Fatale | |

| | | |
| --- | --- | --- |
| | "I got your DVD Full Load. My girlfriend and I watched it that same night and we were both very pleased to say the least. The DVD was great and stimulating. We watched it for a second time and couldn't even finish it without pawwing all over each other. Thanks for the great quality DVD and the onset of great sex!" | |
| | - A Fan in Brooklyn | |


"I just got Full Load, and I really enjoyed it. The dom on the bus was fun. Since I'm an FTM, the last clip was especially exciting for me. I want more! .... [I]t was nice to see Bruzer is just a regular guy like the rest of us out here in Madison. FTM-loving Femmes are few and far between in the heartland, and more transition-positive 'regular guy meets sexy Femme' vids might up our chances of finding mates (or at least give us something non-mainstream to jack off to!).

"Thanks for showing the world we're 'normal,' sexy folk, in Full Load."

- Cory H., Madison, Wisconsin


| | | |
| --- | --- | --- |
| | "The video arrived--and it's so damned hot!!" | |
| | - Tara, Vancouver, Canada | |

Full Load: Scenes from ssspread.com



FTM and lesbian sex video


DVD: $29.95



From the creators of ssspread.com, the former Web site for "hot femmes, studly butches and lots of genderfuck," comes Full Load, an all-new XXX hardcore Fatale video that will get your juices flowing and send your libido soaring.

Rarely seen on film, this lesbian, queer, FTM and transgendered world is raw, sexy and explicit in its groundbreaking close-up depiction of authentic FTM sex.

Four daring, sexy vignettes range from the raunchy and provocative to the sweetly romantic. Featuring lesbian lovers of all stripes, FTMs, and butches and femmes galore.


Read the reviews...


:: CLICK ON ANY FEATURED IMAGE BELOW FOR LARGER VIEW ::


The video opens with "Mass Transit" and introduces Mistress Cobra, a fast-talking, funny sexy professional femdom who thought she would be meeting a client on an abandoned graffiti-ridden bus. A sexy butch and her


two FTM buddies have been hanging around, pumping their strapon dicks, bored and just waiting for a little excitement.



Enter Mistress Cobra, with a few ideas of her own. Dressed in a PVC skirt, see-through black net top and thigh-high PVC boots, Mistress Cobra immediately takes control, announcing, "I wanna see all your cocks."

One by one Mistress Cobra gets these naughty submissives down on their knees. She spanks them, whips them with a cat-o-nine tails, makes them lick her boots and suck her toes. She has the smart-mouth butch lick her shaved pussy


and finger-fuck her. In the climax scene, while two of her "busboys" hold her aloft, she gets fucked with an enormous strapon dildo.







"Butch Fire" is a wild ride with two butches in love and determined to make each other come.
Wall-to-wall lesbian fucking is jam-packed with candid close-ups as the two ride each other to orgasm.






Fingerfucking, cocksucking, slapping and spanking... these two hungry dykes will make you hungry for more. Take a peek into this rarely seen butch/butch world.




"The Attic" is an exquisite, hard-loving lesbian clip, riding the edge between pleasure and danger. These daring queers stop at almost nothing in their rough and passionate lovemaking.





Fire play, smelly socks, spanking, toe-sucking and -fucking, a hint of asphyxiation play, and slapping each other into fits of giggles...
...Watch as Bug takes Billy from behind and both explode into rolling orgasms.






And in the most romantic of the vignettes, "Full Load," a femme and her FTM lover get frisky down in the basement laundry.





With a sweetly amateur touch, this vignette dares to go where no one has gone before, the close-ups taking us into the realm of a real FTM lesbian love relationship...
...while the laundry spins 'round and orgasms abound.

Watch out for the puddles!




Full Load presents a rare voyeuristic opportunity to see a slice of authentic sexuality and provocative sexual fantasies played out on screen, to see what FTMs, lesbians, butches and femmes really do.

Director: Barbara DeGenevieve
Executive Producer: Nan Kinney

Photo credit: ssspread.com

Color. 90 minutes. Rated X. $29.95




DVD: $29.95
In stock. Ships within 24 hours.






People who enjoyed Full Load also bought:



Hard Love and How to Fuck in High Heels

The Crash Pad Series Volume 4

The Crash Pad Series Volume 3

The Crash Pad Series Volume 2

The Crash Pad Series Volume 1

The Crash Pad

Bathroom Sluts

Dress Up for Daddy