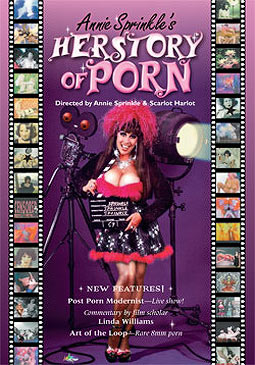 Annie Sprinkle's Herstory of Porn

101 minutes. Special DVD Edition with Extras. $29.95



DVD: $29.95


In Stock. Ships within 24 hours
---
People who like Annie Sprinkle's work also enjoy these Fatale titles:
To learn how to "sprinkle":
How to Female Ejaculate by Deborah Sundahl
For the male anal sex crowd:
Bend Over Boyfriend
Bend Over Boyfriend 2
For FTM porn-lovers:


Annie Sprinkle's Herstory of Porn



Special DVD Edition with Extras!

$29.95





In Stock. Ships within 24 hours.


— LesbianLife.About.com

A history of porn that you won't forget! Annie Sprinkle's journey as a porn star begins here, 25 years of Annie's life in porn.
You'll see the best and worst of Annie's 150+ porn films, including lots of cum shots, "girl/girl" shots, disco era porn, goth, feminist, Tantra porn, FTM porn and more. Annie Sprinkle puts it all together in an entertaining format with her colorful voiceover commentary.
The experimental porn—especially Annie's Mermaid porn scene—is a winner. The "erotic fish dance" shows Annie's creative love of porn.
Annie says, "Porn is a mirror in which we can see our reflections." We couldn't agree more.
If you haven't met Annie Sprinkle, Herstory of Porn is the place to do it. Funny, charming and always sexy, Annie Sprinkle stands out in the crowd.
DVD EXTRAS INCLUDED
The Art of the Loop - 17 minutes
"The Art of the Loop" shows rare 8-millimeter porn footage circa 1950-1985 in this excellent, 17-minute documentary. Peep shows used these "loops" that ran continuously, and while the major porn studios spent big bucks on some of these short, color films, the majority of the porn is packed with amateur porn stars because it was a good way to break into the porn business. Narrated by Annie Sprinkle sexologist Jeff Fletcher.
Don't miss this! "The Art of the Loop" is worth the price of the entire DVD.
Post Porn Modernist - 15 minutes
A humorous and deeply satisfying excerpt from Annie Sprinkle's "Post Porn Modernist" live performance at The Kitchen in New York City. The different scenes flow flawlessly, with Annie interacting with the audience and even offering a view of her cervix!
---
Annie Sprinkle's Herstory of Porn

Special DVD Edition with Extras


Available on DVD: $29.95
In Stock. Ships within 24 hours.