The Real L Word XXX San Francisco Edition


Directed by Madison Young, shot in San Francisco with three couples and a threesome



DVD: $19.95





In stock. Ships within 24 hours.


In this second installment Madison Young's mockumentary series The Real L Word XXX, Madison Young heads to San Francisco for some delicious fun.
This is a femme fest funhouse, on display for Madison Young's camera. All femmes all the time show off for each other and the ever-watchful eye of the camera..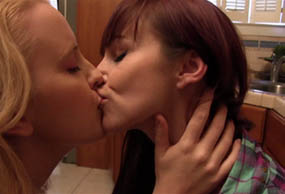 Something's cooking in the kitchen! Bella and Kylie are uninhibited femmes who strap it on, play with the vibrators and nipple clamps and big ol' lesbian cock-sucking.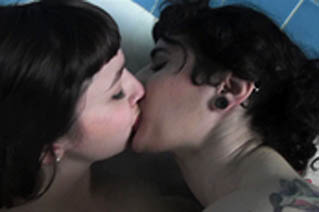 For femmes Annabelle and Sandy Bottoms, this date is all new. After a walk in the park, they head back to the apartment, barely making it up the stairs before they ravage each other. Lots of kissing and big sexy boobs and curvy behinds take these two to the blue-tiles bathtub, where they continue having loads of juicy lesbian sex. Check out the rubber ducky vibrator, safe for underwater play!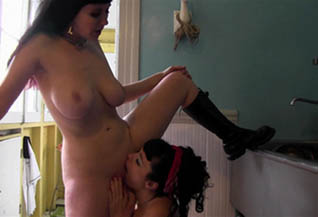 For a kinky real-life lesbian couple, nothing beats the chemistry between Siousxie Qand Mistress Nerine. They hold forth in the kitchen, beginning with a red velvet cupcake, and move on from there. "Naughty" Siousxie Q wiggles her butt and waits for more as Mistress commands her to do the dishes before she gets any more sex. This is one hot scene!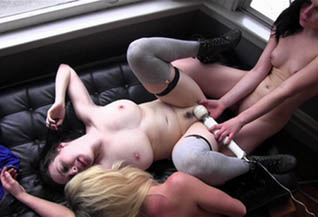 This femme threesome explores the mysteries of lesbian sex.
About Madison Young
Madison Young is one of our favorite feminist porn directors. A real presence and voice in feminist porn, she is the star and director of Queer Manor, 50 Shades of Dylan Ryan, MILF Shakes and The Real L Word XXX NYC Edition. A prolific perv, Madison Young has a narrative imagination and stylized sense of sexy that breathes life and wit into real lesbian porn and queer porn. Madison Mania! is a 3-DVD combo set.
DVD features sexy bonus extras.