Watching The Crash Pad Series Volume 3, this beautiful sex act is as relevant as ever. Not one scene goes by in the new Shine Louise Houston DVD without a good dose of the time-honored staple of dyke sex.
So on that note, we're reposting this Sex Tips piece, which was originally published in the June 2006 newsletter.
Straight folks: If you haven't tried it, don't knock it.
Straight gals: Check out Bend Over Boyfriend for how to finger-fuck your boyfriend.
When we were younger, much younger, finger fucking could upon occasion produce major anxiety—were our nails clipped just so, no hangnails or raspy edges? Would she like it? Should we use a condom? Were there such things as "finger condoms"?
After exploring dozens if not hundreds of lesbian bodies, finger fucking seems as natural as kissing.
One of the best ways to get started is to go down on your girlfriend and lick her good. After she's wet and open to you, gently ease your finger inside.
If you find you need some lube, the bottle should be next to the bed where you put it before you got all hot and horny with your girlfriend.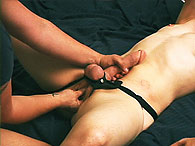 Slowly explore the ridges—feel her G spot just inside and along the roof of her vagina? Don't press it at this point, but if she's bucking like a rodeo horse, go for it!
As she begins to respond to your finger inside her, you can quit with the cunnilingus—your neck is probably stiff by now anyway—and move up alongside her, and keep stroking her with one finger. You'll find your rhythm.
Slide a second finger inside. She'll let you know if she's open to it. You can try a third finger too, but often, one or two fingers do the trick.
By now you may really need the lube, or not. If she's wet enough, you may not.
(More sex tips about fisting.)
Many lesbians view finger fucking as a prelude to "real sex" with a strap-on dildo. But it can also be the finger-fucking that brings her right to her first orgasm.
If she likes to have multiple orgasms, then consider more stroking with your fingers or donning your strap-on.
We're assuming here that you're both lying down, but try sitting up behind her. You can play with her breasts and nipples, stroke the inside of her thighs and get off on feeling her leaning up against you.
Finger fucking her doggy-style—an act you probably like a lot—is another way to reach her G spot and let her spew.
Just remember: Don't ram her too hard. Your fingers should be loosely curled around to her natural shape.
You can also ask her if she likes it. Be willing to ease up a little and look at her face, kiss her. Is she enjoying herself?
If you're the one getting finger fucked, remember to talk to your partner and let her know what you like and what you don't. You can just say, "That hurts" or "Too hard" or "Harder."
You can also guide your partner's hand toward or away from your vagina. Take her wrist and push or pull her where you want her.
You can also finger fuck each other at the same time, a delightful experience if you like mutual, concurrent sex.
What's your advice? Post a comment here.