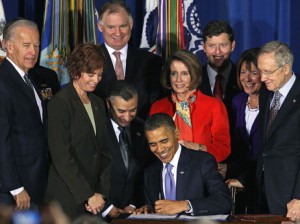 For members of the military who have, in essence, remained in the closet for the last decade plus, today is a new day. President Barack Obama signed the "Don't Ask Don't Tell" repeal. No longer will openly gay men and lesbians be barred from serving in the U.S. military.
There will no separate showers or other facilities. As we listened to the news this morning, the notion of separate showers called up one image in particular, that of desegregation of the U.S. military in 1948. There will be no benefits for partners of gays and lesbians–and gay marriages will not be acknowledged under this repeal. Still, it's a start.
Kudos to the U.S. Congress and President Obama for moving the military forward into the 21st century.
Tags: Barack Obama, Don't Ask Don't Tell, gays in the military