It's official. Don't Ask Don't Tell, the Clinton-era compromise on gays in the military, is done, gone, repealed as of midnight last night.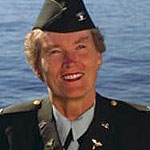 A piece on NPR, "Don't Ask Don't Tell is Done; Now What?," about the Don't Ask Don't Tell repeal, has some good quotes. One of our faves, from Stacy Vasquez: "I like to say I'm a government-certified homosexual."
We thank Grethe Cammermeyer for drawing our attention to this issue many years ago. We hope she, like so many of her compatriots, is celebrating a long-awaited victory today.