In this encore "Sex Tips," several tips for how to go down on your girlfriend and give her good head. Cunnilingus, going down, giving head, clit-licking—we love it, and there's nothing more delicious in the world!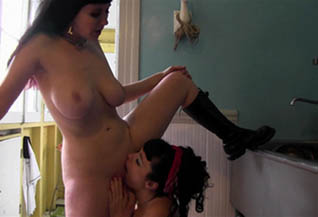 Going down on your girlfriend seems easy once you've had some practice—a few years is a good start—but if you're new to going down on your girlfriend, or you have a new girlfriend or have never tried it and want to, there are a few tips to help you get comfortable and dive in.
First off, find out if she likes it. How? You can edge your hand southward, letting your mouth follow, trailing kisses down her belly.
Glance up to see her expression. Is she grimacing? Does it look like she's grinning and bearing it? Is she smiling? Is she looking down at you?
Murmur sweetly, "Is this okay?"
If she says yes or nods in the affirmative, you're on your way.
Touch her first to see if she's wet, then ease your mouth down and simply kiss her. You don't have to start off like a starving suckling. Gently run your tongue around the shaft of her clitoris.
She may taste sweet or not. Don't worry about that now. You want to juice her up some more to get fresh juices flowing. Her scent may change too as her excitement increases.
Some women like to have the "hood" of the clitoris pulled back; some don't. Test the waters, so to speak, and see if she likes it or not. Ask her if you're not sure.
Some women like to have a finger inserted while you're sucking and swirling your tongue around her clit. Nudge one finger toward her opening. If she spreads her legs and says yes, then go for it.
The sensations of having your clit licked and being finger-fucked are very different, so keep your attention on her clit. When she's ready to come, you should feel her vaginal walls squeeze tight then relax. Her clit will probably get stiff and hard.
Tease her a bit but not for too long, especially if you want to fuck later. Let her come now.
A note on positions. In straight girl/girl porn videos shot (usually) by men, you'll notice the neck-wrenching contortions the licker has to go through for the camera to "get the shot."
In real lesbian porn, you oftentimes just see the back of the head. This is because real cunnilingus takes real dedication and attention—nose in pussy.
Good examples of real lesbians in action are Lesbian Curves and Take Her Down!
But don't be fooled into thinking you won't get off on the real thing—it's sexier than ever to watch the real thing, and listen as real orgasms spew forth.
For more real lesbian clit-sucking, check out MILF Shakes and The Real L Word XXX San Francisco.