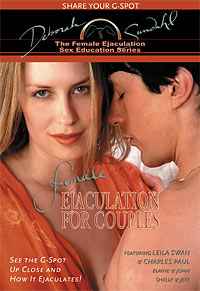 Cover photo: The Art of Making Love, Inc.


Female Ejaculation for Couples

Director: Deborah Sundahl
Color. 60 minutes.


DVD: $29.95






Do you have questions about female ejaculation and the g-spot? E-mail Ask Fanny at Fatale Media: askfanny@fatalemedia.com

Check out previous "Ask Fanny" columns in the twice-monthly Fatale Media Newsletter.

Sign up here for Fatale Media's FREE twice-monthly newsletter.




Female Ejaculation for Couples

DVD $29.95


Directed by Deborah Sundahl, female ejaculation expert

Starring Leila Swan and Charles Paul, Elaine and John, and Shelly and Jeff








Deborah Sundahl's sequel to her classic best-selling female ejaculation video, How to Female Ejaculate: Find Your G-Spot.

In her latest offering, Deborah guides three couples through the process of learning to female ejaculate. Each couple demonstrates how to female ejaculate and create spectacular squirting orgasms like never before.

In Female Ejaculation for Couples, you'll learn:
How to love female ejaculation


What the g spot actually looks like and where is the g spot


How to touch the g-spot to create female ejaculation and great orgasms


Is female ejaculate urine? The answer is no!


The best sex toys, sexual techniques and sexual positions for gushing orgasms


What role the clitoris plays in female sexual stimulation


How to have multiple orgasms using g spot stroking during sexual intercourse


How to make love in an all new way


Keep your sex life alive with female ejaculation and g spot orgasms

"This DVD puts to rest any question about where the G spot is located, because I shot close-ups of three women's g spots. You can see the g-spot being pushed out of the vagina by the pelvic muscles, and you can even see the ridges on the g-spot and see the female ejaculation flowing profusely."
— Deborah Sundahl