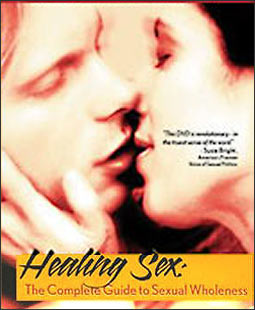 Healing Sex: The Complete Guide to Sexual Wholeness


Directed by S.I.R. Video's Shar Rednour

Starring: Staci Haines

Also Starring Tina D'Elia, Kathe Izzo, Maria Stanford, Howard Squires, Christina Vickory and Melinda Wells

Photo credits: Phyllis Christopher

Produced by S.I.R. Video and Staci Haines

112 minutes.




DVD: $29.95


---
DVD Extras
Spanish/English subtitles
Behind the Scenes Featurette
Extended Scenes
Bonus Mind/Body Exercise
Original Theatrical Trailer
Cast and Crew Bios
Exclusive Allison Anders Interview
Conversation with Susie Bright
---
Also by Shar Rednour
Alternative and How-to Sex DVDs:

Bend Over Boyfriend (director)
Bend Over Boyfriend 2 (director)
Talk to Me Baby (host, director)
Lesbian DVDs:
Sugar High Glitter City (actress, director)
Hard Love and How to Fuck in High Heels (actress, director)


Healing Sex: The Complete Guide to Sexual Wholeness




DVD:
$29.95





In Stock. Ships within 24 hours.


"This DVD is revolutionary—in the truest sense of the word."
"HEALING SEX helps you start working through the hurt and shows it's possible to enjoy sex again."
Healing Sex is based on Staci Haines' best-selling book, The Survivor's Guide to Sex, about which Publishers Weekly wrote:
"Staci Haines provides a powerful, open-minded guide to untangling sex from the effects of trauma and betrayal."
Healing Sex, the DVD, tackles the same issues—sexual abuse and sexual molestation—with the positive healing approach that Haines specializes in.
The film follows a diverse cast of women and men healing from past sexual abuse. Watch as they take the path to a more pleasurable and healthy sex life and struggle to find peace, healing and intimacy.
Staci Haines draws on her vast experience as a workshop leader, author, somatic practitioner and educator to guide you toward the life you deserve.
Healing Sex enables you to work out the normal, post-traumatic survival reactions—fight, flight and freeze—that may affect your ongoing sexual relationships.
Mixing documentary-style drama with sex education and mind/body exercises, Healing Sex is a step-by-step guide to sexual healing.
You'll learn:
How to be present during sex.
How to experience pleasure and safety at the same time.
How to relearn boundaries, consent and mutual connection.
Define your sexual pleasure based upon what you enjoy and desire, not on your past hurt.
---
Healing Sex: The Complete Guide to Sexual Wholeness


Directed by Shar Rednour

Produced by S.I.R. Video and Staci Haines

112 minutes.


DVD: $29.95
In Stock. Ships within 24 hours.