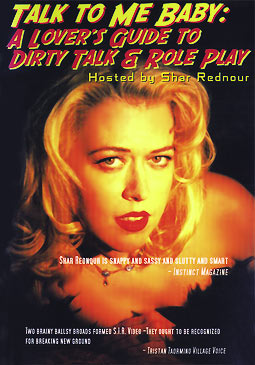 Talk to Me Baby

DVD only. 60 minutes.



DVD: $29.95


"Shar Rednour is, as always, the perfect hostess. She's her usual vampy, campy and out of control self. What I love about this video is that anyone can get something out of it."
— SMUT Magazine
"Shar Rednour is snappy and sassy and slutty and smart."
— Instinct Magazine
"The beautiful Rednour's imaginative suggestions are dramatized by hot couples who explicitly act out kinky scenarios while sensually flapping their gums. Very nice work featuring mainly lesbians pairings, most of which star natural, non-porno-looking Bay Area Alterna chicks who actually seem to enjoy their sex scenes as opposed to fake-ass porno style overacting. Refreshing!"
— AVN Magazine


Talk to Me Baby


DVD:
$29.95





In Stock. Ships within 24 hours.


This lovers' guide to dirty talk and role play teaches and shows how having a smutty mouth can spice up your sex life.

Hosted by S.I.R. Video diva Shar Rednour, this "lovers' guide to dirty talk and role play" shows real couples making passionate pillow talk and scorching sexual fantasies as they go at it. Mostly lesbian couples, some straight pairings, this sexy porn movie is hot!






Talk to Me Baby is sex-ed with a twist—real couples show examples of dirty talk and act out their sexual fantasies in role play.

Next time she says, "Lets talk dirty," you'll be talking nastier and thinking dirtier, and acting out filthier fantasies than you ever dreamed.

Once you hear Shar Rednour's samples of dirty talk, you'll want to watch this sexy video over and over and over again! Try it, talk dirty to me, you'll love it.

Starring Shar Rednour, Sophia Carpaccio, Aimee Pearl, Jack Manx, Charlie Skye.
Talk to Me Baby



DVD only. 60 minutes.


| | |
| --- | --- |
| Available on DVD: $29.95 | In Stock. Ships within 24 hours. |