MILF Shakes


Directed by Madison Young with an all-lesbian cast



DVD: $19.95





In stock. Ships within 24 hours.


Mother , may I?

Mommy fantasies come alive in this pervy lesbian DVD.
Get ready for a sweet creamy treat with MILF Shakes, a bosomy, suckling mommy-fest of real dykes who can't get enough breast play. Older lesbians train younger dykes in the subtleties of lesbian pleasure, with a lot of suckling of the mommies' beautiful big boobs and the young dykes' pert little nubile breasts. Cunnilingus, finger-fucking and sucking bring the orgasms gushing forth!
Got milk? Scene one finds busty Mommy Penny in a cupcake apron at the bakery café she manages. Little newbie employee Alani needs some guidance in order to become a proper "lesbian girl" and to please Mommy Penny. Lots of baby talk, food sex—freshly frosted cupcakes smashed on nipples and lots of licking—and milkshakes you'll be salivating for! They have tongue-tingling good sex up on the bakery's counters, and Penny takes Alani bent over the industrial-sized sink. Yum yum!.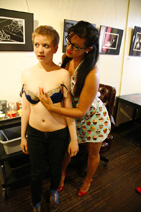 Milk it! Scene 2 at the bakery café brings the most gorgeous Coral, a dead ringer for a latter-day Louise Brooks, into the capable hands of Beretta. A gallon of ice-cold milk gives Beretta, a photographer, the perfect opportunity to take Coral back to the bathroom and photograph her naked up against the white-tiled wall. This virgin outing for Beretta is a clit-tingling scene that will have you grabbing your vibrator in no time!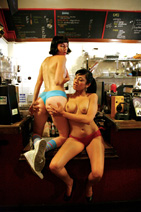 In scene 3 we get the sexy, experienced Eve Minax who is ready and willing to top the wide-eyed naïf who has come into the café to hang up posters from the local college. This student wants higher grades, and Eve will teach her how she can get those grades up. This long slow seduction is a case study in how to make love to a lesbian. Eve brings out a glass dildo, a glass butt plug and the Magic Wand…all sex toys to elicit a most delectable orgasm from her student, Dixon.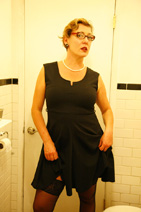 In the rollicking, take-no-prisoners scene 4, Sadie Lune and Maggie Mayhem play out the Earth Mother who needs help with making love with a younger college student who has been studying consciousness-raising and "the sensual context of what it means to be a mother." Long, slow kisses lead to more, and before we know it, the Earth Mother goddess is taking it good.
In another masterpiece from the amazing Madison Young, MILF Shakes stars Maggie Mayhem, Sadie Lune, Beretta James, Coral Aorta, Alani Pi, Dixon Mason, Eve Minax and Penny Barber.
MILF is an acronym for "Mom I'd Like to Fuck," and this sexy-mommy porn phenomenon is enough to make anyone thirsty for this luscious nectar.
MILF Shakes is a lesbian sex porn DVD featuring real lesbians who have a thing or two to say to young acolytes who misbehave…all while desiring the creamy wonder that is mommy.
About Madison Young
Madison Young is one of our favorite feminist porn directors. A real presence and voice in feminist porn, she is the star and director of Queer Manor, 50 Shades of Dylan Ryan and The Real L Word XXX NYC Edition. A prolific perv, Madison Young has an narrative imagination and stylized sense of sexy that breathes life and wit into real lesbian porn and queer porn.
DVD features sexy bonus extras, behind-the-scenes shots, chapter index, photo gallery and trailers.