As our gift to you this Christmas season, we are offering free shipping now through Christmas, and half-price shipping outside the U.S.
There are more details in this Fatale blog posting—"Fatale's Gift to You – A Holiday Note"—which we posted last Wednesday just before Thanksgiving.
There are no minimums, no restrictions or the like. You deserve the best! And that includes an easy shopping experience where you can find good gifts at good prices.
Here are some Bestselling Gift DVDs. Talk about good deals!
Plus, as always you are guaranteed 100% satisfaction. Your happiness counts.
Here's the 2009 Holiday Shipping Schedule so you can plan when to order your gifts.
–Outside the U.S. order by Friday, December 11, to guarantee Christmas delivery
–Inside the U.S., order by Friday, December 16, for free First Class Christmas delivery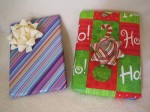 You also get free gift-wrapping and personalized gift cards—yours for the asking. Simply check the box in the checkout; Christmas or non-Christmas wrapping is your choice.
We have much to be grateful for this Christmas season. Thank you for all your well wishes for Nan, and thank you for your loyalty, your humor and your letters. Keep 'em coming!
Yours in good love and sex,
Nan & Christi
nan@fatalemedia.com
christi@fatalemedia.com
P.S. You get free shipping in the U.S. through December 25, 2009, half-price shipping outside the U.S. We ship worldwide, and you can order securely here at Fatale's site with your Visa, MasterCard, American Express or PayPal. See all Fatale's DVDs.
Tags: Bend Over Boyfriend sale, Christmas gifts, Fatale gifts, free shipping, holiday shipping schedule, sexy DVDs