Thursday, November 29th, 2018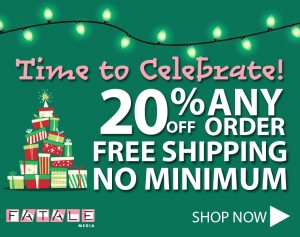 Enjoy your holidays at Fatale with a real, gift-wrapped DVD to give to your sweetheart. The most romantic gift to give and share. This special offer gives you 20% off all orders (no minimums) and free shipping in the U.S. (half-price shipping outside the U.S.). What a good deal! Plus you get free gift card and free gift-wrap–your choice of wrapping type. All orders ship within 24 hours. Nice.
Through December 31, 2018.