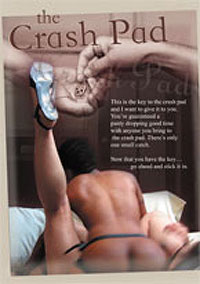 The Crash Pad

60 minutes. $29.95. DVD includes bonus extras.



DVD: $29.95
Out of Stock.




Winner, "Hottest Dyke Sex Scene," Feminist Porn Awards, Toronto

Selected, Outfest 2006, the 26th Annual Gay and Lesbian Film Festival

Selected, 18th Annual Vancouver Queer Film Fest

Selected, Cineffable 2006, Paris, France
"[T]he wrestling and ejaculating in [Syd Blakovich and Jiz Lee's] first ever porn scene together—a scene so hot we still replay it in our heads to this day. Don't you wish all porn was this hot?"
— Courtney Trouble, "Hot 'n' Heavy," Curve Magazine
"I don't know what I want to tell you about first—the chemistry between the actors, most of whom are real-life couples; the amazing camera angles showing penetration up close and so clear that you can see the cream oozing; or a shocking cum shot that rivals anything in mainstream porn.."
— Felice Newman, SF Bay Times
"The actors run the gamut from butch to femme, and the interaction is tasteful but HOT HOT HOT."


The Crash Pad


DVD and bonus extras: $29.95





Out of Stock.


You'll never look at your mail the same way again!
"This is the key to the crash pad and I want to give it to you...There's only one small catch..."
Thus begins a wild ride in the secret rendezvous called the crash pad, a place that offers utterly uninhibited dykes the freedom to have naughty, riotous lesbian sex.
An interracial threeway gives an eyeful for a little blond voyeur who watches from the sidelines.
A femme masturbates to a horny orgasm while two butches, kissing, hover over her.
In another assignation at the crash pad, a busty femme and her lover get down and dirty. This butch means business as she satisfies the seemingly insatiable femme. Don't miss the beautiful shots of the butch's big black dildo gliding into the femme's shaved white pussy.
When the butch finishes her off with some skilled finger-fucking, watch one of the most exquisite squirting female orgasms we've seen in a long, long time.
This and a lot more lesbian sex will make you squirm with unadulterated pleasure!
Directed by Shine Louise Houston for Pink and White Productions and Blowfish Video.
The Crash Pad is packed with extra behind-the-scenes footage, outtakes and inside interviews.