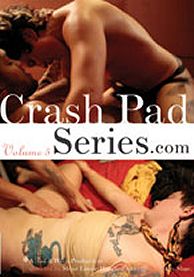 The Crash Pad Series Volume 5


- The Revolving Door



DVD and bonus extras: $29.95





- Out-of-Stock

.


In The Crash Pad Series Volume 5 — The Revolving Door, Shine Louise Houston takes us back to The Crash Pad, where in five scenes she delves into the kinky power plays of dykes, doms, subs and transguys.
"The kinkiest of the Crash Pad series so far and features lots of plays of dominance, submissive power struggles, switching and hardcore sex. The cast consists of hot gender-fucking freaks, femmes-dykes, alt-queers, bois, butches, a trans-man….With five scenes, various top/bottom scenarios, diverse body-types and looks, there is plenty of hot queer kinky porn for everyone."

--Viviane's Sex Carnival
The cast includes August, Stacy Staxxx, Rex, Scarlett Chaos, Red, Cyd Loverboy, Kuma, Julie Warren, Shawn and Mickey Mod. Syd Blakovich is in here too, for all fans of The Crash Pad.
Trailer: QuickTime format • Windows Media Player format.