Hard Femme: Lesbian Curves 2
Starring Courtney Trouble, Kelly Shibari, April Flores and a cast of BBW lesbians



DVD (including digital file): $29.95





In stock. Ships within 24 hours.


HARD FEMME : Lesbian Curves 2
Director and star of the Hottest Dyke Film award winner for Lesbian Curves, Courtney Trouble brings a fresh eye to this new dyke porn flick.
Hard Femme: Lesbian Curves 2 stars Courtney Trouble, April Flores, Kelly Shibari, Betty Blac and Kitty Stryker. Mmmm good!
Courtney Trouble says about Hard Femme: Lesbian Curves 2:
"Just lesbians! Hard Femme is longer, prettier, and it's rougher—but it's still super romantic/high chemistry. There's a lot of strap-on here too."
Hard Femme gets rough with bondage, spanking, sucking and lesbian strap-on fucking. These luscious ladies know how to squirt! Female ejaculation and BDSM scenes abound here, with these dyke divas.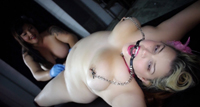 Get ready for big boobies and big asses that will whet your appetite for more curvy lesbians.
• Want some sexy wrestling? Betty and Kitty wrestle and fuck all over the house until they discover a sexy leather sex sling in the corner.

• Courtney straps on her favorite dick and brings April into utter submission before squirting all over her round, succulent tits.

• Amory teaches Kathleen a lesson or three about sucking femme cock and begging for orgasms.

• Kelly forces multiple orgasms out of the her lusty lover, bound and gagged in a dungeon.

• Under Sadie's tutelage, Ava becomes a trembling sex slave, desiring the torture Sadie metes out with stainless steel kitchen utensils, clothespins and more, before making her female ejaculate in the intense finale.

• Bonus scene: Courtney Trouble in a heart-stopping suspension bondage scene!
Soft girls, rough sex.
Another bonus: The DVD includes a digital file of the film so you can get it up on your mobile devices, or simply save the file to your computer.
Courtney Trouble is an important voice on the scene of queer and lesbian porn. For fans of Lesbian Curves, Roulette, and one of our favorites, Seven Minutes in Heaven, Hard Femme: Lesbian Curves 2 lives up to Courtney Trouble's reputation as a prolific, groundbreaking lesbian pornographer worth watching.