Nostalgia



DVD and bonus extras: $29.95





In stock. Ships within 24 hours.


Queer Porn from Courtney Trouble
Nostalgia, directed by Courtney Trouble, is queer porn parody—starring lesbian butches, femmes and all manner of dykes, but with a tongue-in-cheek nod to the early days of porn.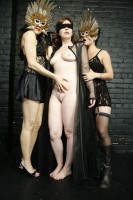 A staged lesbian threeway begins the DVD with a performance arty feel. An audience of about a dozen dykes looks on. You'll see Carol Queen in the first scene—love that vibrator!
The next scene takes us to a roleplaying doctor's office, replete with the dyke doctor Syd Blakovich and her "nurse," who counsel a distraught dyke who can't seem to have an orgasm. Well, that's all these dykes need to hear! It's wall-to-wall after that.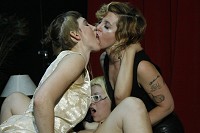 A disturbing scene follows, a staged suicide that is nonetheless redeemed in the end with a sexy fourway romp between two big girls and their girlfriends.
Dedicated to the memory of Marilyn Chambers, Nostalgia is not for the faint-of-heart or those lacking a sense of humor. We think Marilyn Chambers would approve.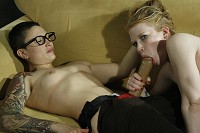 Courtney Trouble is highly recommended.