Lesbian Curves


Starring Courtney Trouble, Sophia St. James and BBW lesbians



DVD: $29.95





In stock. Ships within 24 hours.



Winner: "Hottest Dyke Film"! Feminist Porn Awards
Lesbian Curves…
Starring Courtney Trouble, Kelly Shibari, Betty Blac, Sophia St James, Sandy Bottoms, Kitty Stryker, Peppermint Fatty, and Eden Alexander and shot in full HD.
Lesbian Curves…
BBW - Big beautiful femmes who know how to start out slow and steamy, sucking and building to power-fucking, oozing orgasms the likes of which will make your own juices flow.
Lesbian Curves…
Big, beautiful, multiracial lesbians who know how to please each other with toys and fingers and tongues…taking each other to exploding orgasms
Shaved pussies, waxed pussies, delicious EEE boobies, these bodies are gorgeous, lush and open and succulently waiting to be explored in every manner.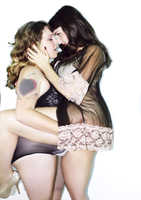 Courtney Trouble and Sandy Bottoms, with her jet-black bangs and busty sass, start with a nice slow tease, then up the action to include finger-fucking and dildos until first Courtney, then Sandy, are utterly sated.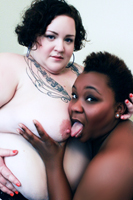 In Scene 2, the beautiful black Sophia St. James straps it on to pleasure Peppermint Patty, who takes it all in with her enveloping, lusty embrace.
Watch the trailer – Lesbian Curves by Courtney Trouble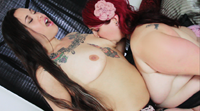 Eden Alexander, with long black hair, an olive-skinned beauty, teaches Kitty Stryker the excitement of using a blindfold during sex. They make love to each other, the redheaded playful Kitty, wearing a pink flower in her hair, with fingers and vibrators and dildos, until Eden straps on and fucks Kitty to complete gratification.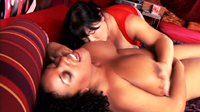 Kelly Shibari takes Betty Blac to ecstacy!
There are four beautiful lesbian sex scenes in Lesbian Curves, plus a bonus scene, trailers and a slide show.
Courtney Trouble writes about Lesbian Curves:
"Sultry body worship, sensuous kissing, playful taunting, sex toys, chemistry and hard-core lesbian fucking are what make Lesbian Curves the genre-busting adult film you've been craving. This full-length feature is full of luscious skin, bodacious bodies and intense orgasms, brought to you by the fiercest femmes in porn, soaking wet and thirsty for passionate, curvaceous, gritty, real lesbian sex."
Courtney Trouble is an important voice on the scene of queer and lesbian porn. For fans of Roulette, Nostalgia and Seven Minutes in Heaven, Lesbian Curves lives up to Courtney Trouble's reputation as a maverick pornographer who dishes up clit-tingling sex.