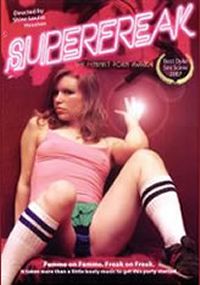 Superfreak

60 minutes. $29.95. DVD includes bonus extras.



DVD: $29.95





Winner, Best Dyke Sex Scene, Feminist Porn Awards, 2007

Premiered, the Philadelphia Gay and Lesbian Film Festival
"True to the San Francisco school of porn, there have been plenty of handsome butches and sexy tomboys thus far -- but as the party winds down femmes Dana DeArmond and Princess Donna up the femme quotient when coquettish Lorelei Lee shows up asking 'did I miss the party?' She didn't.
"If hot dyke porn is what you're into, there's no question that this title is required viewing. But it's also interesting because the action seems so genuine -- as realistic as video has ever captured. Superfreak is definitely a keeper."
— Thomas Roche, Eros-Zine


Superfreak


DVD and bonus extras: $29.95





In Stock. Ships within 24 hours.


— LesbianLife.About.com

From Shine Louise Houston, award-winning director of The Crash Pad, comes Superfreak from Pink and White Productions and Blowfish Video.
A grunting, grinding masturbation scene—replete with a big ol' vibrator and a clear glass dildo—opens this lesbian porn movie as our heroine gets ready to go to Shine's party.
Music by Funky Skunk will put you in the mood for the '80s, but there's more. The ghost of Rick James, whose "Super Freak" topped the charts in 1981, invades this party of dancing fools and takes over one couple at a time.
There's sex in the kitchen, sex in the bathroom, sex sex sex everywhere but on the dance floor. Superfreak is wall-to-wall real lesbian sex with a plot, and a wry humor that comes through just enough to give you a breather when you need it.