Whether you've been together for decades or just hooking up, introducing kink to your relationship shouldn't be embarrassing or difficult. We recommend going slow, and depending on how serious you are, it may involve some lessons.
Lesson #1. Put away 50 Shades of Grey.
Assuming kink hasn't been in your sex life from the beginning, adding kinky sex to your arsenal can spark a relationship and ensure you're never bored. Lesbian bed death? No way!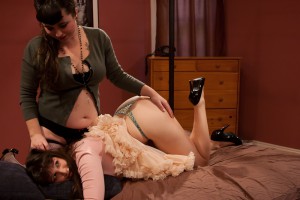 Do you know what you want? Perhaps you've seen pictures or videos of lovers tying each other up or you like the idea of spanking.
If you don't know what you want, take some time to look around the Web and watch videos. No question, we always recommend watching porn!
There are myriad ways to tell your sweetie you want to kink it up in bed. Here are two that work: 1) Just do it while you're making love. Spank her lightly. Pull out that new whip you just bought and tap her bum. Wear the latex brassiere. Start sucking her toes. Act out your fetish and see what her reaction is. 2) Ask her, whether or not you're in bed.
Lesson #3. Take your kink out of the bedroom. Are you pierced? Take it up a notch and wear a heavier ring to work. Try wearing nipple clamps to a party. Corsets are nice under work clothes too.
Lesson #4. Less is more. Play safe. If you're unsure of what you're doing, stop.
Lesson #5. Enjoy the ride. Listen to your body, love yourself and your partner.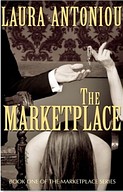 And if you want to read a book to get that pussy wet, try The Marketplace by Laura Antoniou. There may be lots of other places to start, but this one is the classic BDSM novel, and our favorite.
It's the first in a trilogy, and there are links to read the first chapters, get books, e-books and more at Laura's blog.