Archive for June, 2012
Thursday, June 28th, 2012
Last month, we wondered about your favorite way to celebrate Gay Pride. And guess what? Sex was in the air! Check out the results.
This month, we've been playing around with Fatale Media on Pinterest, so naturally we've been thinking about style. And we wonder:
What's your porn style?
Vote now! The poll is on Fatale's home page and is completely anonymous.
We'll give you the results next month.
Until then, we wish you deliciously hot sex,
Nan and Christi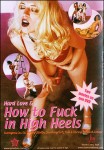 P.S. If you haven't seen Shar Rednour, the style mistress herself, we recommend the bestselling Hard Love and How to Fuck in High Heels.