We read with interest the article about the naughty teacher who's been charged with inappropriately sexting her student. Here's the Huffington Post article about the Chicago-area high-school teacher.
In our last poll, we asked if you enjoyed sexting, and it seems like now and then it's not such a bad thing. View the September 2011 poll results.
The article about the sexting teacher got us thinking, though: When you were a student, did you ever have an intimate relationship with your teacher?
Vote now! The poll is on Fatale's home page.
We'll give you the results next month.
Until then, we wish you deliciously hot sex,
Nan and Christi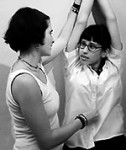 P.S. Afterschool Special is still our favorite schoolgirl fantasy video.
Hot hot hot, and we've yet to find real-life size-EEEE boobies like Ms. Hussy's anywhere else!