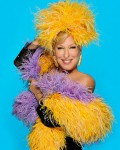 We're staying in tonight for a romantic evening and planning to enjoy the Divine Miss M on HBO.
With a little Champagne and dinner, of course.
The Showgirl Must Go On stars Bette Midler, and we can't wait! 
Happy New Year!
With much love for a fine 2011,
Christi & Nan
P.S. As a thank-you, we've extended the free shipping through January 15, 2011. Enjoy! Treat yourself!