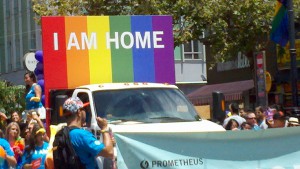 We started off the summer in San Francisco, just in time for #LoveWins and the amazing San Francisco Pride March. We had a blast, just the two of us staying downtown for the weekend.
We hung out with the one and only Shar Rednour and her wife, Jackie Strano, producers and stars of some of Fatale's all-time bestsellers (Hard Love, Sugar High Glitter City, Talk to Me Baby).
We also saw Lulu Belliveau, who is making a documentary about San Francisco dyke life in 1988, called Dyke '88 and including life at On Our Backs, and she interviewed Nan and many others on her visit from London.
Here's a picture on Fatale's Facebook page (safe for work) of Nan, Lulu and Ele, Lulu's girlfriend and the camerawoman, after the shoot.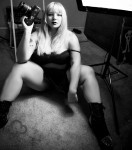 Courtney Trouble has a new summertime lesbian hottie now at Fatale. My Best Friend's Perfect Pussy finds Courtney on comfortable ground—queer girls havin' lots of fun with each other, including a threesome slumber party!
It's one of our favorite Courtney Trouble films! Lots of femme-femme action, but with nice doses of butch insertion (ahem) when and where it's most wanted. Delicious!
Check out My Best Friend's Perfect Pussy and plot your own perfect summer slumber party!
Till next time, we wish you happiness and fabulous sex!
Nan & Christi
nan@fatalemedia.com
christi@fatalemedia.com
P.S.  See all Fatale's lesbian titles, what LesbianLife.About.com calls "the best lesbian porn."
P.P.S. See all Fatale's videos, including the bestselling Bend Over Boyfriend combo set.