It's been sweltering where we are this summer…and air conditioning is something the two of us don't like too much. Necessary now and then but yuck.
When you can't open the windows for the wall of heat that comes in, all we do is dream of getting away.
And away we will go next week—to Upstate New York to a family reunion, then to the Hudson Valley for a much-deserved week of R&R.
One thing that air conditioning is good for? Sex in the summer! Sex in the sweltering heat.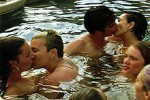 A nice swimming pool, with cool water to douse all heat-induced summer sluggishness, works wonders too.
We hope you're somewhere to get away from the heat and enjoy the respite.
Till next time, yours in good love and (air-conditioned) sex!
Nan & Christi
nan@fatalemedia.com
christi@fatalemedia.com
P.S. Hot fun in the summertime! If you never saw Fatale's sexy wrestling flick, Take Her Down, there's a great lesbian pool scene in there. Enjoy!