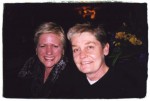 Did your Valentine's Day shine? Did it suck?
A friend said to us the other day, "I don't participate in that manmade holiday"—meaning, Valentine's Day.
But a swinging, single neighbor held a swinging singles-only party to celebrate the day. And why not? It's a great excuse for a party.
We played it low-key and romantic.
Romance has a place in the world. Otherwise there wouldn't be so many YA novels and movies for all ages.
Love is what it's all about.
Till next time, we wish you love and lust and all kinds of fiery happiness,
Nan & Christi
nan@fatalemedia.com
christi@fatalemedia.com
P.S.  See all Fatale's lesbian titles, what LesbianLife.About.com calls "the best lesbian porn."
P.P.S. Order three DVDs and get free shipping. Plus, save up to 20% on combo sets! See all Fatale's videos.