Last month, we were thinking about Anthony Weiner and his "nom de sext," Carlos Danger. We wondered if you used an alias or "nom de sext." Check out the results!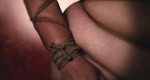 This month, Courtney Trouble's steamy new lesbian video, Hard Femme, has got us squirming. Lots of knots in this one, which got us thinking:
Do you like to get tied up for sex?
Vote now! The poll is on Fatale's home page and 100% anonymous.
Till next time, we wish you fabulous sex.
Nan and Christi
www.fatalemedia.com
P.S. See what LesbianLife.About.com calls "the best lesbian porn." Now through Labor Day, September 2, 2013, use coupon code SUMMER20 at checkout and get 20% off your entire order!