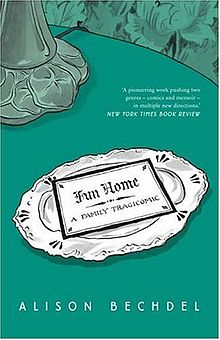 If you haven't read Alison Bechdel's incisive graphic memoir Fun Home, we highly recommend it.
Her off-Broadway play of the same name was staged at the Public Theater in New York and was a knockout! Scripted by Lisa Kron, the play is a musical, depicting the autobiographical story.
Bechdel's father, a closeted gay man, commits suicide mere months after Bechdel comes out to her parents.
Now, the University of South Carolina is under fire for recommending the book, one of many, to incoming freshmen.  The state's legislature determined that this was not suitable reading for "children." Although we would say that 17- and 18-year-olds about to enter an institute of higher learning are not exactly "children."
The issue is Bechdel's lesbianism, not, apparently, her father's suicide.
Bechdel reacts to the controversy in a good article.