We're getting ready for Gay and LGBT Pride parades and enjoying seeing the pictures of the ones that have already happened.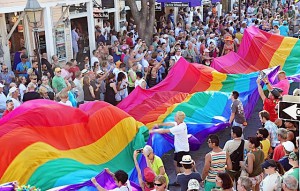 Here's a picture from the Key West Pride Parade, which happened last week…and we have several friends who were right in the midst of it all! There was no shortage of fetishwear!
So we wanted to know:
What item of fetishwear will you be sporting at Pride?
Vote now! The poll is on Fatale's home page and 100% anonymous.
Till next time, we wish you fabulous sex.
Nan and Christi
www.fatalemedia.com
P.S. Celebrate Pride special sale is on at Fatale! You save 20% plus get fast, free shipping on all items. No minimums, either. Sale is on through June. Shop now!