Archive for October, 2013
Friday, October 18th, 2013
Fisting has come out of the closet. October 21, 2013 marks the third anniversary of International Fisting Day, a celebration of a sexy sex act that bothers the hell out of a lot of people.
The imagery of the fist means revolution. It means boxing. It means violence. It means success, "hell, yeah, we did it." It means a fist bump.
The hand curled into a fist. Tight or loose, it's the way some people hold drumsticks or baseball bats. Grab a line on a sailboat. A dog's leash. The tethers on a hot-air balloon. Whips.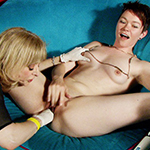 Fisting means loving your lady with your whole hand. The feeling is exquisite. Whether giving or getting, it's an intimate gesture that surpasses nearly all others.
We're not sure of the history of the hidden nature of fisting, but we do know that the law in the some areas, here in the U.S. and other places, isn't real fond of images of women fisting. Fisting each other, specifically. Gay guys have their own culture of fisting, and their own porn around fisting. Lesbian fisting sex is different, although it may seem the gesture is similar.
Thank you to @JizLee and @CourtneyTrouble for standing up for fisting, for bringing fisting out of the closet and into the open with its own legitimate "International Day." And Twitter hashtag – #FistingDay
Jiz Lee has a good post, "Fisting Day."
On Monday, fisting images, art, blog posts and more will go live at this official Fisting Tumblr page. Grab your gloves and lube and go!
Yours in good love and sex,
Nan & Christi
nan@fatalemedia.com
christi@fatalemedia.com
P.S. Want to see some? Check out Nina and Jiz in Live Sex Show, or Courtney Trouble's Hard Femme.