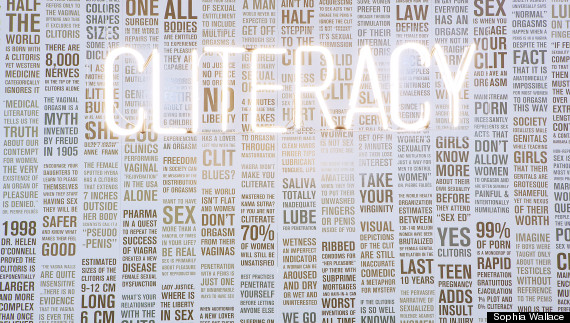 We didn't realize the clit needed its own ad campaign. But according to Sophia Wallace, that's exactly what the clit—unappreciated, undervalued in the world—needs. And she's out to make sure the world knows about it in a new "Cliteracy" campaign.
Why cliteracy? Why now?
This is about much more than just women's sexuality, Wallace maintains.
"Cliteracy is about not having one's body controlled or legislated. Not having access to the pleasure that is your birthright is a deeply political act," she told the Huffington Post.
A Tumblr campaign has gone viral, and Wallace plans to take her Cliteracy street ad campaign beyond New York City, where she posts the posters touting Cliteracy.
At base is Wallace's "100 Natural Laws of Cliteracy," and the art installations are pointblank: "The clitoris is not a button. It is an iceberg," reads one declaration.
And if the idea of a "Clit Rodeo" tickles your fancy, you won't be disappointed.
Wallace says that even in (straight) porn the clit is considered "optional" and "kind of freaky," we say the clit is rarely ignored or dismissed in the real thing, real dyke sex, between lesbians.
What do you think? Does the clit need its own PR?
Yours in good love and sex,
Nan & Christi
nan@fatalemedia.com
christi@fatalemedia.com
P.S. Check out all Fatale's sexy lesbian and adult-education videos.