Last month we asked if you or someone you know had ever experienced LGBTQ bullying or discrimination. Seems like most of us have, in one form or another.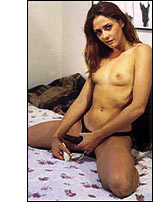 For August, we ask:
In honor of August, Anal Sex Month, do you plan to bend over for anal sex this month?
Vote now! The poll is on Fatale's home page and 100% anonymous.
Till next time, we wish you fabulous sex.
Nan and Christi
P.S. Buy the Bend Over Boyfriend Gift Set and save 15%! And check out what LesbianLife.About.com calls "the best lesbian porn."