In the last month or so we've gotten a couple interesting e-mails…not about exhibitionism or voyeurism, per this month's poll, but about what's out there now, and what's new at Fatale.
Here's one note, from an old friend we'll call S.:
"It's been a while. Was just wondering how things were going at Fatale. The last time we conversed was about fisting and the political implications. I'm not sure if the present administration had anything to do with it or not, but the truth is you can find it almost anywhere on the Internet now. I was wondering if you guys had anything new featuring this or any plans for the future."
It is our understanding that this act–lesbians fisting–is still verboten when it comes to lesbian and specifically lesbian-made explicit films. And from what porn we've seen online, the dykes aren't real. If you know otherwise, let us know.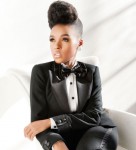 Here's a second e-mail that warmed our hearts because we think women in men's clothes is still a sexy sight. It's from a fan who wishes to remain anonymous:
"Sometime back I sent you a list of female celebrities who wore men's clothes (e.g. Madonna, Salma Hayek)."
He goes on to mention several celebrities, including Britney Spears ("Me Against the Music"); Heather Morris, who wore a similar outfit in the Glee episode "Brittany Britney"; Christina Aguilera ("Ain't No Other Man"); Rihanna; Lady Gaga; singer Janelle Monae (she even wears masculine shoes); and one can find many other photos of women in men's clothes on Flickr and Youtube.
He adds: "I should point out that sexual orientation doesn't necessarily play a role when a woman chooses to dress like a man."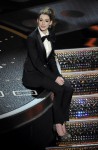 Here's a follow-up note headed "Women and Neckties" from this same anonymous correspondent:
"You've probably seen Anne Hathaway's skit at the Oscars in which she wore a tuxedo.  I recently found out that Carrie Underwood wore a tux during a performance last year, and that Taylor Swift wore a tux for the cover of a magazine.
Also, actress Robia LaMorte wore a tuxedo in the TV series Silk Stalkings, in the episode called 'Do You Believe In Magic?'"
Spoiler Alert:
We found the Silk Stalkings episode on YouTube, uploaded this past Valentine's Day, with this creepy copy: "A ventriloquist's dummy with its own dark history is the only lead to a tuxedoed serial killer."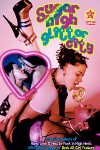 All that said, if you like cross-dressing in porn, check out Sugar High Glitter City or Hard Love and How to Fuck in High Heels.
Nobody does it quite like Shar Rednour and Jackie Strano, the masterminds behind S.I.R. Videos (Fatale Media is their distributor). The "sugar pimps and dandy hos" in Sugar High are drool-worthy.
Celebrities in the lesbian world of porn for sure!
Send us your notes, and write on our Fatale Media Facebook wall. We love to hear your thoughts.
Yours in good love and sex,
Nan & Christi
nan@fatalemedia.com
christi@fatalemedia.com