Last month it seemed excess was everywhere—and it wasn't just the weather! So we wanted to know if you were multiorgasmic.
Guess we all know what we're doing! See the results!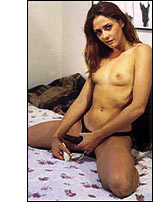 This month, we want to know what you think about sex:
Is it true sex gets better with age?
Vote now! The poll is on Fatale's home page and 100% anonymous.
Till next time, we wish you fabulous sex.
Nan and Christi
www.fatalemedia.com
P.S. Want some cool vids to steam you up? See what LesbianLife.About.com calls "the best lesbian porn."