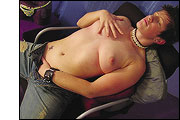 May is International Masturbation Month!
In Fatale's last poll, we asked:
How do you increase your sex smarts?
Seems like we have quite the educated voter population here at Fatale!
For the new poll, we ask:
How do you celebrate International Masturbation Month?
The poll is on Fatale's home page and 100% anonymous.
Till next time, we wish you fabulous sex.
Christi & Nan
P.S. Did you know? Buy three DVDs and get free shipping!
P.P.S. One of our favorite masturbation scenes was shot in beautiful Santa Fe, New Mexico. The "Mystery Masturbator" finds her way into several scenes in Take Her Down! Another sexy lesbian masturbation special is Special Delivery!