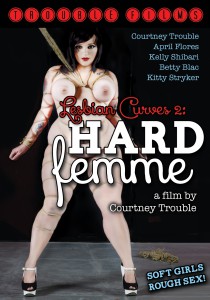 From the award-winning Courtney Trouble comes an all-new lesbian DVD, Hard Femme: Lesbian Curves 2. If you liked Lesbian Curves, or if you like big girls and bondage, you'll love this new offering.
A star-studded cast (April Flores, Kelly Shibari, Betty Blac) is interspersed with a few new beauties, led by Courtney Trouble herself.
Courtney told us, "Just lesbians! Hard Femme is longer, prettier, and it's rougher—but it's still super romantic/high chemistry. There's a lot of strap-on sex here too."
Read more about this new lesbian DVD, which comes with the file so that you can view it on your mobile devices, or simply save it to your computer. Order now to get this sexy new title.
Hard Femme's motto: Soft girls, rough sex.
Yours in good love and sex,
Nan & Christi
nan@fatalemedia.com
christi@fatalemedia.com
P.S. Check out all Fatale's sexy lesbian and adult-education videos.