Deborah Sundahl is the female ejaculation expert who guides women and their partners to discovering the joy of G-spot orgasms and female ejaculation.

Female Ejaculation for Couples is a bestseller at Fatale and a good exploration by three couples who want to experience this amazing feat.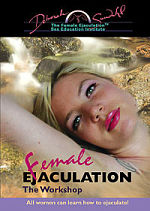 If you're curious about female ejaculation and G-spot orgasms, check out How to Female Ejaculate: The Workshop, too, a women-only workshop that takes you step by step to ecstasy!
Deborah writes the occasional column "Ask Fanny: About Female Ejaculation" for Fatale's blog. You can find all her columns here in the Ask Fanny category.
Stay tuned! We'll have more about female ejaculation next time.