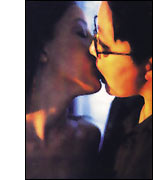 Last month we wondered what you like for the very best orgasms. Looks like quite the smorgasbord!
This month, we're asking a different question:
Before the sex, before you even know you want it, what gets your juices flowing?
Vote now! Be honest!
The poll is on Fatale's home page and 100% anonymous.
Till next time, we wish you fabulous sex.
Nan and Christi
FataleMedia.com
P.S. Take advantage of instant savings when you buy Fatale Media combo sets! Plus, buy 3 and get free, fast shipping! Find your selection at what LesbianLife.About.com calls "the best lesbian porn."