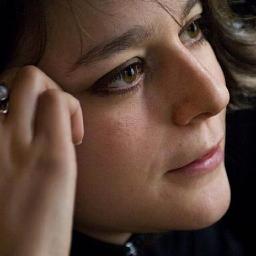 Get a Room! is a film series created by Marije Janssen that runs in Amsterdam and Utrecht, pretty much monthly. Later this month, she'll be hosting an evening of feminist porn classics, including Fatale's Clips. There are more details about the event at the Get a Room! Facebook page.
If you haven't seen Clips, it's a worthwhile blast into the classic past. Truly, the first time anyone had seen what Nan had on offer.
We had the pleasure of meeting Marije earlier this year at the Feminist Porn Conference in Toronto. During "Lesbo Retro: A Dyke Porn Retrospective," Nan told Shar Rednour that the scene in Clips was indeed a first.
Marije says, "The Get a Room! series is a grassroots initiative, to create discussion, fun and awareness around sexuality, gender identity and sex-positive feminism."
You can find and follow Marije and Get a Room! at www.twitter.com/vialuce.
Nan says of the Get a Room! event, "I only wish I could attend! I love Amsterdam. In the 1990s all of Fatale's movies were screened at a GLBT film festival. The Fatale movies were shown at a public bathhouse, using mounted trampolines for screens. It was a screening/sex party. Fantastic! So, I have fond memories of Amsterdam."
Yours in good love and sex,
Nan & Christi
nan@fatalemedia.com
christi@fatalemedia.com
P.S. See all Fatale's lesbian titles, what LesbianLife.About.com calls "the best lesbian porn." Read more about and order Clips.
P.P.S. See all Fatale's videos.