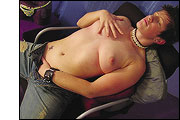 It's National Masturbation Month! Celebrate with these fabulous lesbian flicks featuring very sexy masturbation scenes.
Plus, when you buy 3 or more DVDs, you get free shipping!
Our favorite classic is Special Delivery, with Deb Shooter's active lesbian imagination coming to life before your eyes. Also starring Benito and Flora and Anja and Eva.
Woven throughout the slippery exploration of lesbian oil wrestling, the anonymous Mystery Masturbator makes her presence known, bringing the scene to a rousing climax. Take Her Down was nominated Best Specialty Video by AVN, and comes from director Sandra Goodwin.
Lastly, if you've never seen the video that started the lesbian porn revolution, buy a copy of Clips and get ready to enjoy this butch-femme classic. Fanny's solo G-spot orgasm is something to behold!
And be sure to check out what's hot at Fatale Media: My Best Friend's Perfect Pussy, Lesbians in the Wild 2: Rooftops and Rebels, Lesbian Strap-On Fantasies.
Buy 3 or more, you get free shipping!