In Fatale's last poll, we asked:
How many piercings do you have?
Nearly 100 people answered, and the results are in!
For the new poll, we ask:
Are you an ecosexual?
If you're asking yourself, "What's an ecosexual?" check out this fabulous Vice article, "Ecosexuals Believe Having Sex with the Earth Can Save It" about Annie Sprinkle's quest and this latest craze.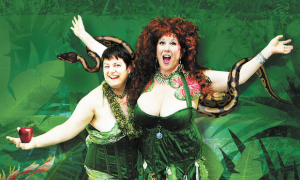 Here's an interview with Annie in The Guardian.
Don't forget to vote! The poll is on Fatale's home page and 100% anonymous.
Till next time, we wish you fabulous sex.
Nan and Christi
FataleMedia.com
P.S. Thank you for your patience while our site is being redesigned. Meantime, the DVD store is open! Check out the Fatale shop!